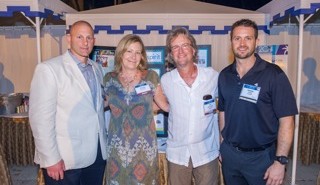 South Florida Bond Traders Association conference brings together fixed income professionals and donates $20,000 to local charities
Over 350 fixed income professionals from throughout the country gathered at the Boca Raton Resort and Club February 6-8 for the 2014 South Florida Bond Traders Association (SFBTA) Conference.  The conference, in its third year, has created a unique format that benefits professionals and the local community.  It offered attendees the opportunity to participate in product-specific discussions on current issues facing the securities trading industry and attend networking events to help develop and deepen professional relationships.
Part of the mission of the South Florida Bond Traders Association is to support local South Florida charities.  Each year members are asked to nominate organizations that have had a meaningful impact on their lives and our community.  This year's recipients are: Angel's Pediatric Heart House (APHH) which provides support to families with children with Congenital Heart Defects and Childhood Acquired Heart Disease; HelpHOPELive for Jayme Mirsky a friend of SFBTA raising money for her lifesaving liver transplant; Inspirit brings live music and the performing arts to members of our community who are isolated or living in restricted environments; and Place of Hope at The Haven Campus which recently expanded to bring family-style residential foster care to the South County area.  "We are pleased to be able to support these organizations that have a positive impact on our community.  A portion of the proceeds from our conference enables us to generously support their work", said George Barbar, President of the South Florida Bond Traders Association.
To learn more about these organizations, please visit:
www.aphh.org
To learn more about the South Florida Bond Traders Association, please visit: www.SouthFloridaBondTraders.org
PHOTO: George Barbar, SFBTA President, Ginny & Bill Meredith, Inspirit, Patrick Leary, SFBTA Vice President